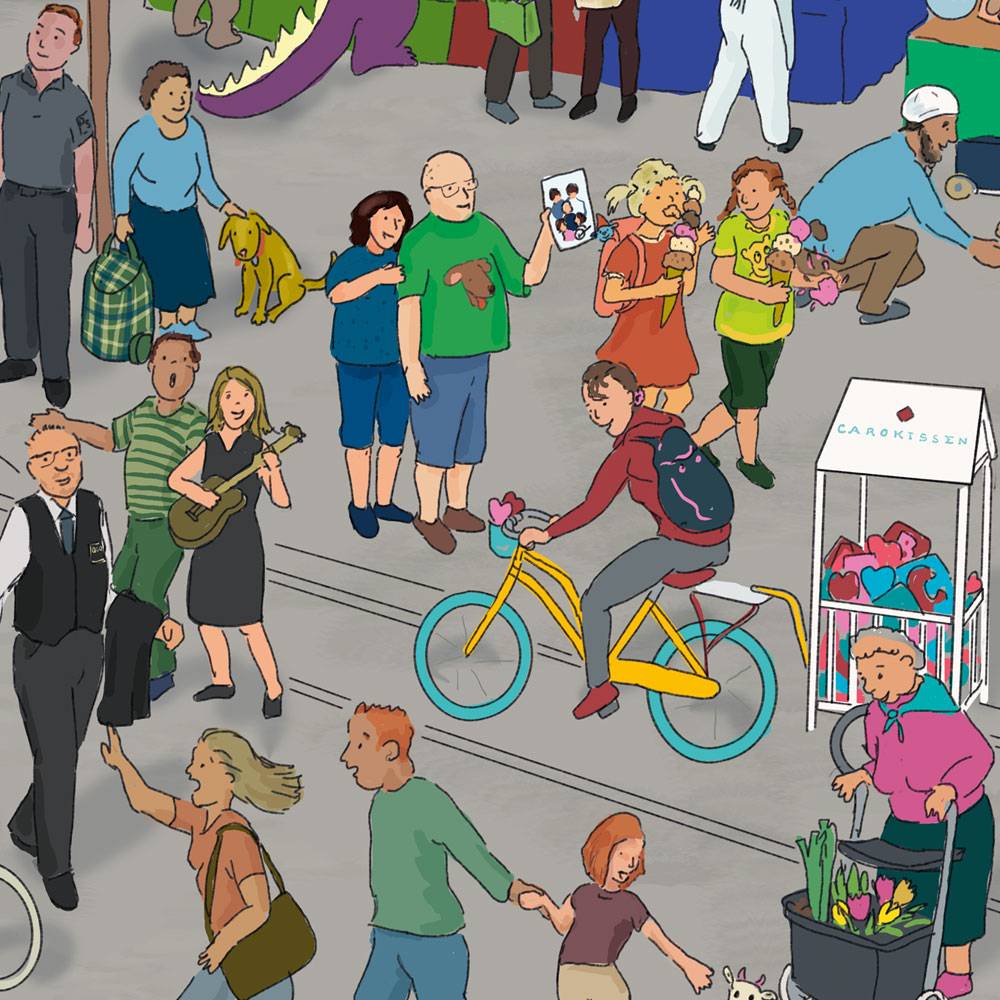 A Search and Find Treasure Trove
Estimated Reading Time: 2 Minutes
Authors: Kimberley Hoffman, Rebecca Hoffman
Teeming with Adventure
The first hidden object books I read with my children were by Ali Mitgutsch and Rotraut Susanne Berner, who are among the best known illustrators of this genre in Germany, where I live. I still remember how fascinated I was when I went on a journey of discovery with my children in these hidden object books to discover little hidden stories that lay like sparkling hidden treasures amid the oversized, teeming illustrations.
The inspiration I drew from those and other Wimmelbooks (search and find books) flows into mine, as I draw cities and their inhabitants with my intense passion for detail. In my home country, the USA, there are fewer search and find books about cities than here in Germany. These are mainly of the big cities like New York or Los Angeles or Chicago. 
Reading is a Treasure Map
A Wimmelbook is an introduction to a mirrored world. If a child engages with my hidden object pictures and finds themselves in them, they might read another book. Maybe the child learns to love reading, as I do. It makes me happy to have drawn pictures that inspired them to read.
Of Treasures to be told and passed on
Everyone has a story to tell, but very few get to tell it. That's what makes my Wimmelbooks different from many others. 
I love to hear stories from my readers and draw them.  This way I get to know a city and its inhabitants personally. When I illustrate these little gems, the residents of that town get a long-lasting picture story to show someone and pass on. Their kids and grandchildren and great-great-grandchildren can discover it over and over again and then tell stories about who the person was.
It's different than on Instagram, where Instagram-Stories disappear after a day. This gives the people I have captured in my picture stories a chance to have their story brought out and told over and over again. The best stories are worth telling many times anyway, aren't they? It's those little experiences that make life really beautiful. 
Some stories are about the mundane, like eating ice cream on a happy day, or about very specific events, like an expectant mother's pregnancy. The participants who appear in my Wimmelbooks entrust me with a glimpse into their lives.  No matter what these stories are, this gives me a new appreciation for the city and especially for the people who appear in my books.
What little story of your life would you like to tell your children and for them to tell their children's children? Let me know in the comments below.