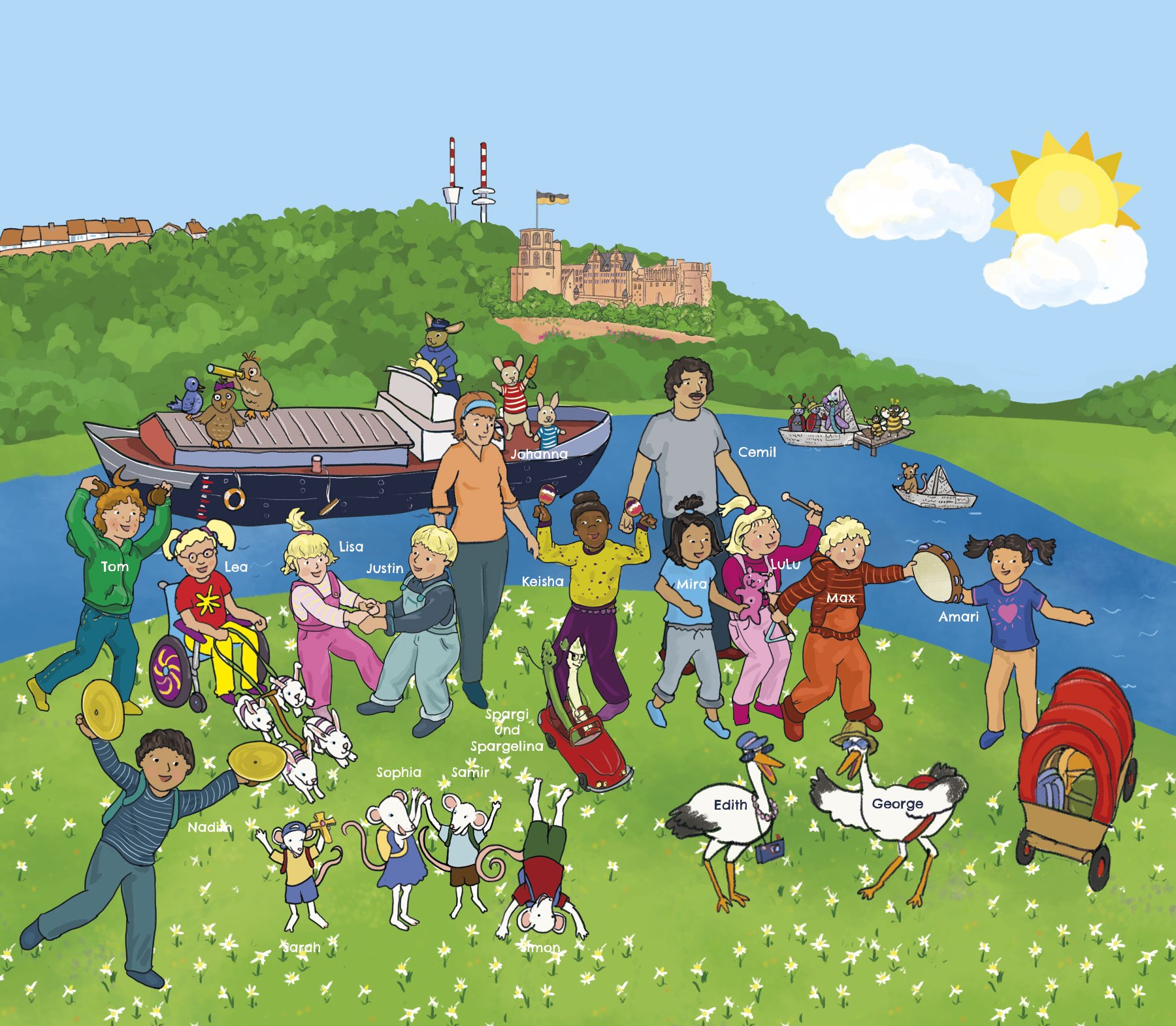 New Book Releases Spring 2023
❤️ New Books Spring 2023❣️
Have you ever lost your heart in Heidelberg?
No?
Now you can lose your heart twice! I am thrilled to announce two new book releases for this spring.
"Heidelberg wimmelt" New Spring 2023 Edition
»Heidelberg wimmelt« is out in its THIRD EDITION! This edition of my search-and-find book is a bit different from the first edition published in 2017. I have added additional hidden object characters to it. Can you spot them?
On this occasion, I would like to thank everyone who made »Heidelberg wimmelt« possible for their support. I would also like to express my gratitude to the people of Heidelberg for allowing me to draw them in the book.
In my latest book, »Die Kurpfalz wimmelt,« we celebrate the heat of Heidelberg's summer with a big colorful fireworks display.
Take a peek at my latest Wimmel book, »Die Kurpfalz wimmelt«. The Kurpfalz (in English: Palatinate) is part of Baden-Württemberg. This is my sixth Wimmel book for Silberburg-Verlag.
In it, you'll discover Sinsheim, Mosbach, Knittlingen, and Maulbronn. It's teeming in the Rhine valley, at Schwetzingen Palace. Race wildly around the Hockenheim Ring, and make stops in Heidelberg and Mannheim. The »Bergstraße« or »Mountain Street« with its castles, the Hemsbach amusement park and the Wiesloch wine festival make you swarm along joyfully.
It's especially fun to go to the Odenwald in the Autumn. At the castle festival in Dilsberg, you can even find an underground tunnel. Did you know that Mark Twain actually was there? Eberbach with the »Frischlingsbrunnen« or »Young Boar Fountain«, is on the other side of the Neckar. There is something for hobby archeologists big and small to discover in Schönau.
Enjoy the snowy, wintry Advent atmosphere in Ladenburg, where a brave girl saves her town from the Swedish king. In Schriesheim we meet two well-known characters from "Heilbronn wimmelt". In Dossenheim and the nature reserve Wendenkopf, we experience winter in the Odenwald.
Join the kindergarten children Max, Amari, Lulu, Mira, Keisha, Justin, Lisa, Lea, Nadim and Tom on their journey of discovery through the Kurpfalz. The corn mice, Sophia, Sarah, Simon and Samir are also on the move. There are many characters to provide Wimmel Fun.
I'm working on a series of profiles about all of these characters. Sign up for my Kreativnews newsletter and follow me on social media. That way, you'll know right away when the profiles are posted. I'm designing a download bonus to this upcoming blog series for my readers. Don't miss out on it. And be sure to recommend my blog to others! Thanks.
When art imitates life 🪞🖼
It was a challenge to paint all those kids over and over. I felt like a kindergarten teacher on a daycare field trip. It was really fun. You know, no matter what I did, a couple of kids always got away from me.
I counted heads over and over again. That way, I could make sure the daycare group stayed together on each page. The ten children always made me laugh. There was always a child missing.
Tom and Justin got away from me most often. But Lisa was no angel either. With all the action in the book, you can imagine how hard it was to keep track of them.
Sometimes they disappeared behind a building. Sometimes a child slipped into a lower drawing layer. Or sometimes I thought I had already drawn them. But I found that I had forgotten a character. I was constantly recounting the children. It paid off. They are there on every page.
Can you find all ten children and their kindergarten teachers, Cemil and Johanna?
The storks Edith and George are my interpretation of the many American tourists who visit Germany's Kurpfalz region every year. They are on a sightseeing tour of the Palatinate with their cameras and fanny packs.
There is a ton of fun going on everywhere. There are so many sights to discover in the cities and towns of the Palatinate. You can see the Rhine or the Neckar on almost every page. It's teeming with people, animals and colorful characters.
Where can you find my spring 2023 new releases?
You can order both spring new releases from the publisher, your favorite bookstore, or an online bookseller. I've listed the titles and ISBN codes below. Write them down. Then you'll find them faster when buying the books.
A »making-of« video for »Die Kurpfalz wimmelt« is coming to YouTube soon. Don't miss it. Subscribe to my channel and turn on notifications.