Humanity and where to find it
betterplace.org asked me to create a search-and-find illustration to highlight social issues. The campaign is for back-track billboards. The back-track billboard illustration campaign ran from December 2022 to March 2023 in the Berlin Subway.
betterplace.org is an online organisation that brings donors and non-profit organisations together.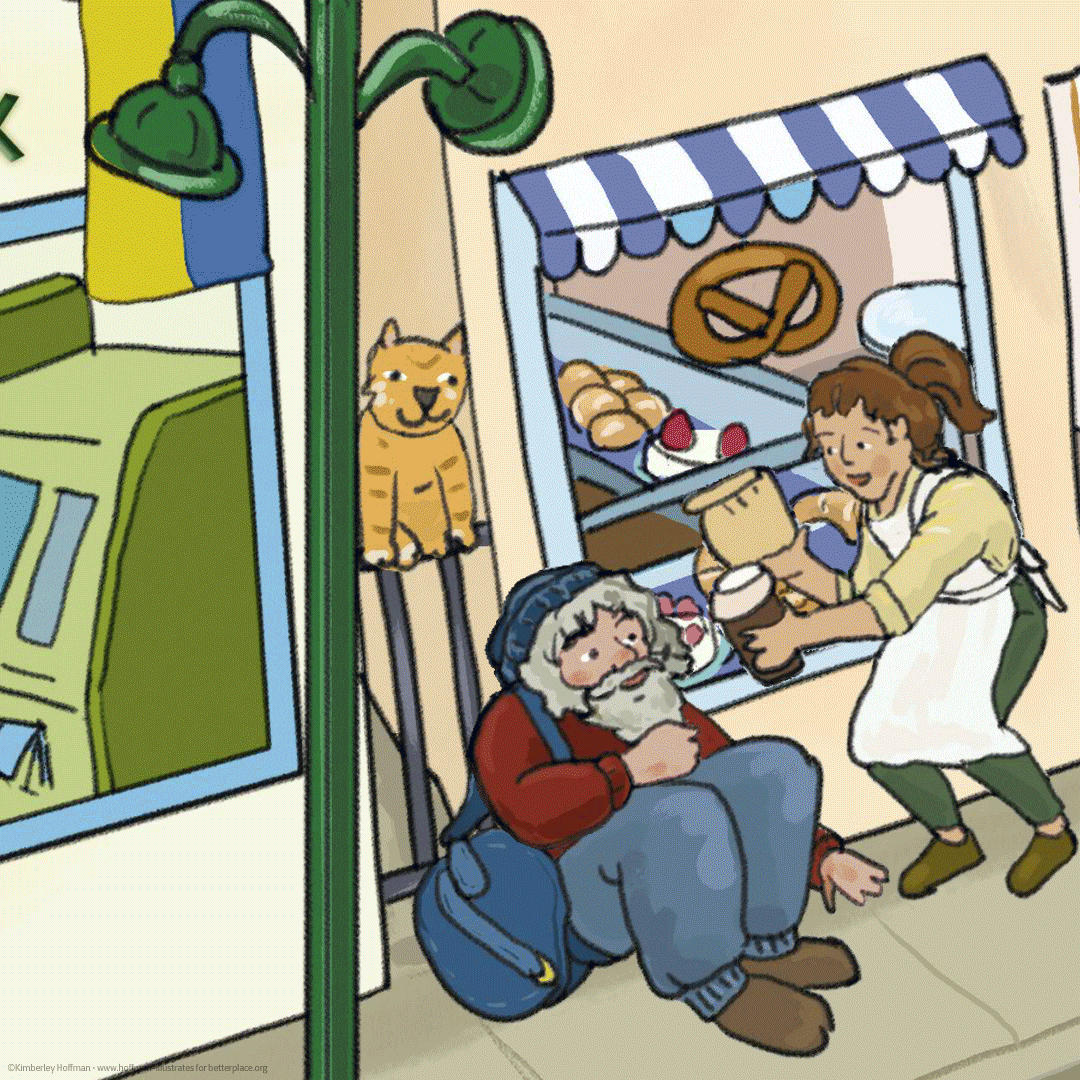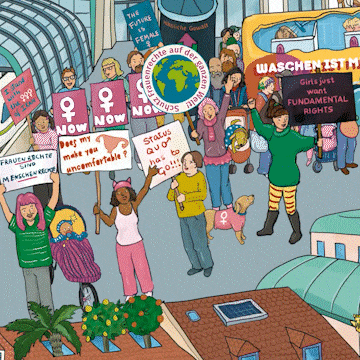 From this back-track billboard illustration I created GIFs, a quick zoom-in-zoom out video for Instagram and Social Media Banners for betterplace.org.
Because of the nature of the GIFs redrew some of the illustrations so that I could animate specific elements. In some cases this was quite simple, in other aspects it was complex.
The theme of this betterplace.org illustration is »Humanity and where to find it«. betterplace.org asked me to do a typical German metropolitan city scene highlighting social issues. For me, this includes a train and bus station, a river with bridges, a shopping street, a park, and a subway, as well as apartment dwellings and some trees, a city hall and a central market place.
Some of the social topics I covered with this search-and-find illustration for betterplace.org were
social protests
helping your neighbors
speaking up when you see someone being sexually molested or in danger
doing good deeds
homelessness
supporting the arts and sports
and so many other things.
Look around. How many acts of humanity can you discover in this search-and-find illustration and in your daily life?
If you look at my image "Noah's Ark" ,which is a local zoo, you not only discover Till Eulenspiegel in his jester's outfit and a few of his pranks. No. You also find images of families in the park, of the pony girl leading a child on a pony ride and of skunks and racoons meeting the turtles at the pond. What are they talking about? Is it a secret?
A child feeds the goats while someone takes a picture. Is that the child's mother? There are spider monkeys climbing across a rope and there are shoes hanging from that rope. But, why?
Every time you open up a page in my search-and-find books, you'll find a new story, a different situation to discover, an event or a mishap.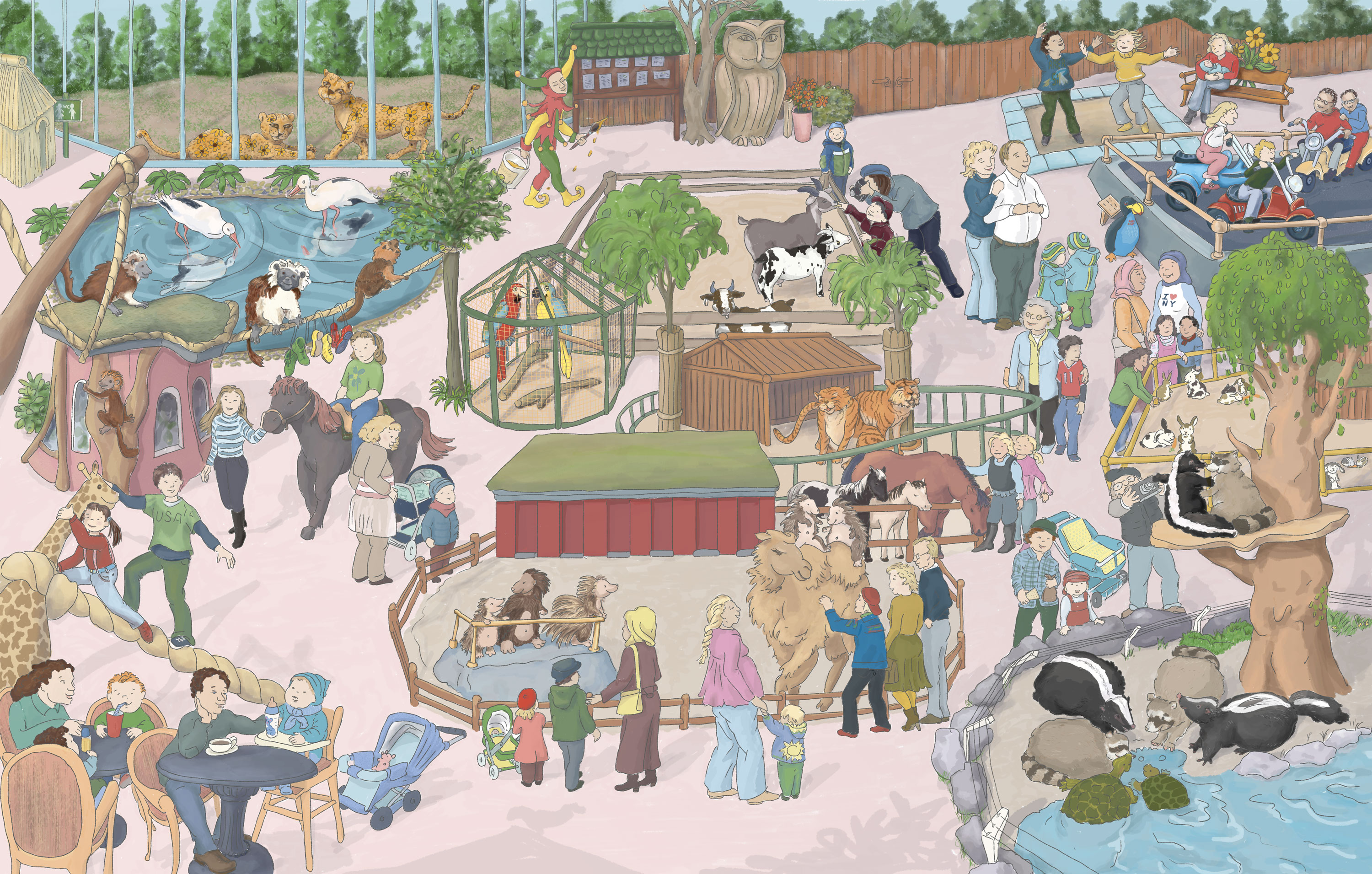 Noah's Ark
This was my very first full page search and find illustration, called "Wimmelbild" in German. It's based on the local private zoo, "Noah's Arc" (https://zoo-bs.de) and I've included some local folklore – Till Eulenspiegel. He is a character who is supposed to have really lived in the area. He's often depicted as a jester holding up an owl shaped mirror to the people, thus his name Eulenspiegel – "Eule" means "owl" and "Spiegel" means "mirror" in German.
Till has played two tricks in this picture. One of them is based on Wilhelm Bodes book "Till Eulenspiegel". In case you've never read it, just look for some shoes dangling above people's heads. You'll have to look harder for the second one. If you cannot find it, just ask a child. They should be pretty quick at finding the discrepancy.
"Noah's Ark" led to my first Wimmelbook, or search and find book, commission — "Heidelberg wimmelt" from Silberburg-Verlag. (https://verlagshaus24.de/heidelberg-wimmelt) And "Heidelberg wimmelt" led to my next hidden image book commission in Silberburg-Verlag, "Mannheim wimmelt".
You can do it – DLRG Project
"Du schaffst es schon" is the German title for this teeming illustration from the book of the same name that I did for the German Lifesavers Society, the DLRG (Deutsche Lebens-Rettungs-Gesellschaft e.V). They wanted to create an anthology of stories for children to encourage them to learn to swim.
"On the Island" and "Cycling around Kempten," the vignettes of the ducks and the "swimming achievement license" also belong to the book, which was written for children ages 3-12 years.
Does your club or organisation want to raise money with a book? Talk to me about it. (link to contact form).
Are you looking for a savvy, narrative illustrator to make your city or company teem, wiggle and giggle? Get in touch with me.