Spring conjures up a New Beginning
Did you think you could only hear the crickets chirping here in my Blog "More Color!"? That it wasn't worth the visit? That nothing ever happens here?
In fact, there was quite a lot going on. But unfortunately you couldn't know that because I barely found any quiet time to to blog.
For this I apologize and invite you to share a fresh start with me.
A Fresh Start? What's it going to look like?
There are some wonderful and delightful changes coming to my website in the near future.
The most important one first: My website is currently being redesigned by Conny Danner, the agency director of missfits. The relaunch is scheduled for the End of April — shortly before the premier of my new search and find "wimmelbook", Mannheim wimmelt, from Silberburg publishing house.
I'm doing this for you.
It's your gain.
It's your gain because my website will run more smoothly, the pages will load faster, and when it goes live at the end of April, you will notice: a professional web-designer had her hand in it, making it look and feel like the transformation of Cinderella – Happy End included.
Conny Danner has a fantastic eye for making unique websites. I really like her aesthetics and collaberating with her. Especially because she really listens and advises with sound knowledge and experience: A nutritious mix of programming, graphic design and incredible taste.
If you're curious about my site's metamorphosis and don't want to miss out, subscribe to my Blog and Newsletter. Be one of the first to be invited to my relaunch. See how the site unfolds its beautiful new wings.
The Prize Drawing
My illustrations of Mannheim, teeming with over 300 Mannheim residents, have been delivered to the Silberburg publishing house and will soon be running through Sachsendruck's printing presses. Sachsendruck is Germany's only board book printers. Quite simply: Quality. "Made in Germany."
When the new Website goes 'live', with a bit of luck you can win one of two signed copies of my search and find wimmelbook, Mannheim wimmelt, which is premiering in May.
Sign up for my newsletter to be among the first to be notified about my website relaunch and about the start of the prize drawing.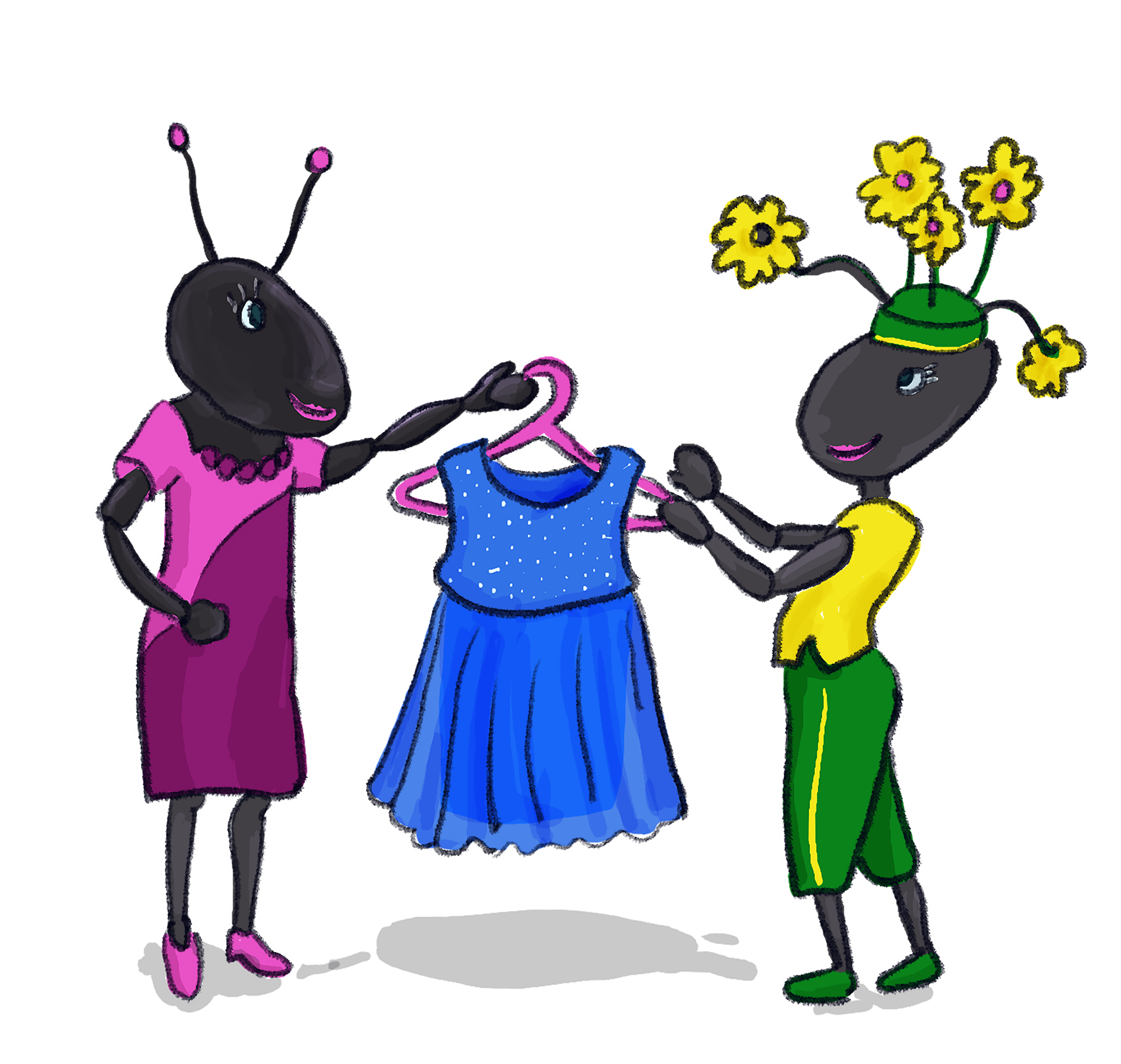 My Blog "More Color!" gets a Makeover.
In the course of having my website redesigned, I was naturally concerned about my blog, More Color! I asked myself what can you as a reader get out of it? How can I improve it? Did I even want to blog at all?
The Answer is: Yes: I can and I want to. I want to trade notes with you regularly.
5 Blog branches for a colorful future
A Book as Inspiration
At first it wasn't clear to me what kind of structure I wanted to give to this blog, but then when I ordered the book, "Heads free for the creative Flow" (Kopf frei für den kreativen Flow) By Roberta Bergmann and it came signed (!) (Roberta is a dear colleague from the nearby city of Brunswick (Braunschweig), Germany) it became crystal clear to me that I want to include reviews and interviews on my blog — next week I'm not just implementing a few of Roberta's Creative Recipes on the blog, she's the first Creative in my Interview Series.
Are you like me – ravishing books with a huge appetite for creative inspiration? Once a month I plan to review helpful books about creativity, art and design that I've read,apps and creative products that I've tried or use on a regular basis. And you can get some first hand insider infos about the creators.
DIY Forever
The next category was inspired by various things and people. My illustrator consultant, Stefan Wendel, recommended that I create how-to/step-by-step illustrations because it suites my style and because I want to expand my illustration offer. And really, who can't resist a good DIY?
On April 10th I am planning something special for small (and large) Easter Bunnies and for Spring Butterflies. But I won't tell you what it is yet. You'll just have to visit me and More Color! again.
There is something very special coming in May.
I like to reward myself after completing big projects so I'm going to renovate my office. All 8.57 square meters of it or for my friends and family in America: 92,25 square feet. You're surely familiar with the term "Tiny Homes". Are you acquainted with "Tiny Offices"? Welcome to my world.
I'm inviting you into my creative space and will be guiding you through interesting DIY and creative projects.
These diy-projects in May are the ones that will tame my creative chaos monster and beautify my space. Think Of "Soft Industrial" and "Minimalist Organization for Creative Chaots."
The illustrated instructions for these office renovation diys can be downloaded free of charge in the Member Section of the new Website upon publication.
Who said you can't draw?
I 've chosen the third blog category because I often hear from others that they would like to be able to draw or because they don't know how to paint with Photoshop. Or how to express their creative self with simple means.
That's what I'm here for.
I firmly believe that every person is born to creativity. Yet sometimes, much like in the book, "The Little Prince" (his snake is interpreted as a Hat),a person's Creativity is misjudged and, as a result, creeps back into the dark places of your soul and atrophies.
It just does you good to create something new.
I want to accompany you, to experiment together, to forget the people who have dropped negative comments and passed not so positive judgement about previous works and let our creative self grow.
Be an Insider
Once a month, I will show you a small collection of and talk about my current work. An Insider Look. A Best of.
I'm inviting you to a virtual stroll through my illustrations, my art processes and my day-to-day work experiences. I'll share my personal experineces and tell not only of triumphs, but also how often I fell on my nose that month. Because taking risks is part of creative Life. A scratched nose is a badge of honor.
Be that Fifth Wheel
Yes. I mean you.
Have you ever noticed that some months have 5 Wednesdays instead of 4? That's why I've invented the Blog Post, "The Fifth "Wheel".
I want you to help shape this special blog post category. My readers get to have a say in what kind of content appears in those posts. I want to give you an opportunity to be part of my creative team.
For example, this could show the development of an illustration on a particular topic, which I then give away in a raffle as a print, or an in-depth look about an art technique that interests you.
"The Fifth Wheel" will be appear this year in May, July and October.
This ain't a One-way Street
Just as I want to accompany you through the month with creative impulses, it would make me happy to know that this isn't a lonely one-way street. Join me and we can juice up with Creative Power Activation.
The Monthly Themes in Overview
Every Month there are various exciting topics and this list shows them in their planned sequence
An exciting Review of Design books and useful Apps and Programs (E.g. The 3rd of April about Roberta Bergmann's Book: Heads Free for Creative Flow – Kopf frei für den kreativen Flow)
DYIs and craft instructions
Ideas, impulses and instructions on art techniques
Insider insights into my work
The fifth Wheel (in May, July and October), where you help to decide and shape the topics and content
Announcements
My new hidden image book (wimmelbook), Mannheim wimmelt from Silberburg Verlag is premiering in Mid-May 2019. Mannheim is teeming along the Planken, at the Children's Festival, at the University and Palace grounds, in Luisenpark and at the It teems on the Planks, on the Children's Festival, at the University and the castle Grounds, in the Luisenpark and at the TECHNOSEUM. And, of course, at Mannheim's historic "Wasserturm" (Water Tower).
Don't miss a thing! Sign Up for My New Newsletter!
I will be in Mannheim in May at book signing events for Mannheim wimmelt. As soon as all the appointments are set, I announce them here, through my Newsletter and through my Social Media Channels.