Auf der rechten Seite des Stadtplans habe ich Orientierungshilfen illustriert. Der Lernende kann mit dem Finger aktiv darüber führen, während er den Begriff ausspricht. Die physische Aktion gekoppelt mit der Aussprache lässt das Wort sich besser im Gedächtnis verankern.
Die Biegungen der Straßen und die Vielzahl der Gebäuden erlaubt auch bei größeren Klassen viele Variationen der Übungen. "Vado spesso in citta" ist eine Anregung für einen Spaziergang durch die "Stadt".
"Dove si trova?" und "Per communicare" helfen dem Schüler mit weiteren Ausdrücken der Orientierung.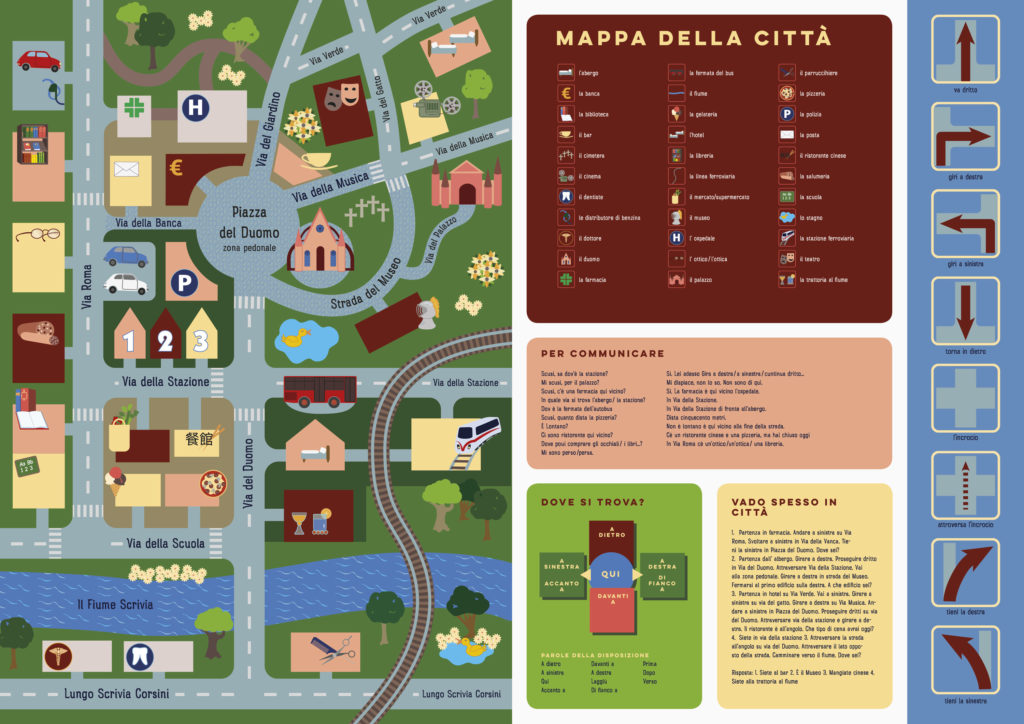 Are you looking for an illustrator who understands the special challenges of teaching? If so, just contact me.  (Link to the contact page)
The City Vectors
These vector illustrations are dedicated to my adopted hometown, Wolfenbüttel. There are historic buildings and sights as well as Wolfenbüttel's typical flora and fauna, such as the ravens (of which there are a plenty).
The illustrations are playful and are suitable for imprints on advertising products and city maps. Are you looking for scalable illustrations of your city? Just get in touch with me.